"Wake N Shake" is an efficient alarm clock App suitable for heavy sleepers such as myself! It can't be cheated by pressing the 'Home' button and you can't lower the volume either.
Watch the following YouTube video to demonstrate how it works:
Available on the iTunes Store: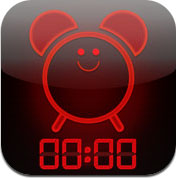 Rookie version is for FREE: [Link]
Pro version is sold at $0.99: [Link]
The difference between the two versions is that the Pro version has a vibrate function,  10 more creative alarms, no Ads and a couple of other features.